Special Event: FREE Women's Club Social – February 22nd | 6:00pm
The Women's Club Board of Directors cordially invites you to attend our second annual social and pace of play teach-in! We invite all current, former, and potential Presidio Women's Club Members to attend this free event. Check out the poster below for more information (click to enlarge). Email us with any questions, or register online now!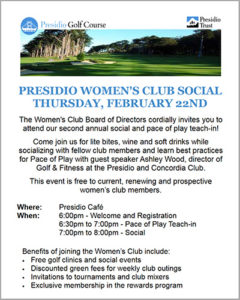 ---
Special Event: Ladies' Clinics – March 3rd | 8:00am
Sharpen up your skills on the course with the Presidio Professional Staff, and then get to know our fabulous golfing ladies with a round after the clinic! Please email Deven Deluca to sign up for the Clinic. Special tee times for after the Clinic are available at 10:00am and 10:10am. Register through the link for tee times only.
---
About The Women's Club
The Women's Club has casual play days for 9 and 18 holes on Tuesday mornings, and 9 holes for Sunday Super Twilight.
Please fill out our brief registration form:
Space is limited and walk-ons are welcome, subject to availability. Please contact PresidioWGC@gmail.com for more information about our casual play and other events.
Casual Tuesdays at 9:00am and 9:10am

9 Holes ($40 to ride, or $30 to walk, for current club members)
18 Holes ($10 off green fees for current club members)

Casual Saturdays at 8:50am (Except February 3rd and March 3rd, when rounds are at 10am or 10:10am

18 Holes ($10 off green fees for current club members)

Casual Sundays at 3:00pm and 3:10pm

9 Holes ($5 off green fees for current club members)
Discounted green fees are available exclusively through club outings, including casual play weekly.
Board of Directors
| Name | Position | Contact |
| --- | --- | --- |
| Lisa Hartman | President | |
| Erica Ackerman | Vice-President | |
| Samara Stein | Tournament Chair | |
| Ann Relling | Tournament Co-Chair | |
| Linda Bower | Casual Play Chair | |
| Katie Casey | Casual Play Co-Chair | |
| Lily Kaplan | Communications Chair | |
| Carla Reyes | Activities Chair | |
2018 Events
| Date | Event | Registration |
| --- | --- | --- |
| April 29th | Men's & Women's Club Mixer | 5:00pm TT | Cost: $50 | Register Now |
| May 6th | 9-Hole Scramble, 5:30pm, Modified Shotgun | |
| June 10th | 18-Hole Shamble, 8:00am, Modified Shotgun | |
| September 16th | 9-Hole Best Ball, 5:30pm, Modified Shotgun | |
| October 21st | Club Championship | |